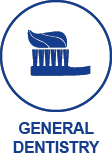 Our aim is to ensure your complete Dental Heath.
Regular checkups are essential to maximising both oral and dental health.
Our assessment will include;
• Examining teeth for decay and wear
• Oral Cancer screening
• Detailed assessment of your gum health
Based on the findings of this assessment, a tailored plan will be developed by your dedicated dental surgeon.
"Making you feel comfortable"
Our aim is to provide all treatment in a relaxing, caring environment. We work closely with our patients to ensure complete delight and involve as well as advise them in the best treatment options available.