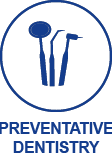 Preventive dentistry is the area of dentistry that focuses on those procedures and life practices that help our patients to prevent the beginning or progression of oral disease. It includes at-home dental care performed by patients, as well as dental care and education by our professional dental staff.
Specialist areas we focus on include;
• Family dental health care
• Diet advice and analysis
• Advice and action against modern tooth wear
• Sports gum shields
We will be delighted to discuss any issues you may have or simply address general problems.